Well, I wasn't expecting too much from "Tiesto In Concert" in LA, it was the first of Tiesto in Concert franchise in the US out of 5 planned, but only one more in Washington D.C. came to realize; the largest one in New Orleans was cancelled due to Hurricane Katrina. I have seen Tijs plenty of times or lately grown tired of the EDM scene.  Despite my reservations, the trip turned out to be magical. Necessary to say, the last couple of months before the gig, I literally lived in the office and this trip felt like a real escape for me. Thanks Michelle, Payman and Matt for making me so excited.
My plane was scheduled for 6.45 am on Friday and I landed in LAX on time – 9.30 am UTC. Gotta love Delta Song! Cab fare to The Standard downtown was $45 which is not bad at all.
Dimitri got to LA a few days earlier and that morning he was already waiting for me in the hotel. It was really nice to see him again. The Standard Downtown is a pretty upscale and full of character hotel. We had a extra large room that was large and comfortable.
Half a day I spent walking around downtown area and checking local sightseeing – City Hall, Walt Disney Hall with Patina, El Pueblo de Los Angeles with it's Olivera Street, Fashion and Jewelry districts, Pershing Square and absolutely amazing LA's new Cathedral of Our Lady of the Angeles. LA made an impression of a city with tons of fountains and absolutely no people.
I ended up going to the roof pool in my hotel and spent the entire evening there. What a great place!!! Colorful couches and water mattresses, great pool and absolutely gorgeous people. Very chick pool-lounge. For those you never been there I highly recommend. It sucks that they charge $15 to get in, but it's so worth it.
.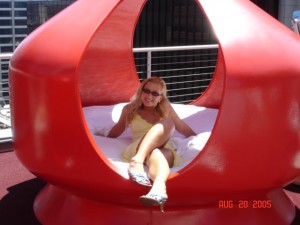 Later that night Dimitri and I met up with Michelle and went out for a dinner to "the most popular LA restaurant" (according to Zagat) – Cafe Bizou in Santa Monica. Later we went back to the hotel for the additional drinks. Thanks Michelle for a really good evening. I wish we could hang out more, but it was impossible to schedule everything in one weekend.
Saturday was a major day. Almost all day I was hanging out with my friends in Hollywood, checking the world's famous Walk of Fame and Melrose Avenue with its shops.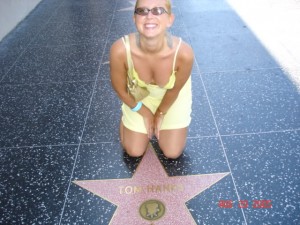 At 8.30 pm we were already parking our car by LA Sports Arena. Show was supposed to start at 9.30 pm.
Dimitri arranged the VIP guest list for me and some of my friends. I really appreciate that! I don't know, how the regular admission entrance was, but it looked pretty scary from the outside – those endless lines would drive me crazy. As for us – we got our bracelets with no line and went straight to the Arena.
VIP tickets guaranteed faster entrance, free drinks and an access to the VIP area. Sadly, the VIP section turned out to be  next to the DJ Stage and not in front of it, thus, there was no ability to see Tiesto at all, so I had to go to the regular admission floor. Crowd was happy and excited!!! Luckily for me I could squeeze myself right in front of the DJ booth and Tijs didn't make us wait for too long. Even though the arena wasn't yet full, he jumped out from the backstage and started with Magikal Circus.
Overall, I enjoyed the night. I really liked the performance by the gymnasts and Jes', "Just be" girl looked really hot, but her voice wasn't strong enough to handle this track. And this is where the magic has begun and the whole arena started singing along with Angela Taylor. Place got crowded very fast and only after a few tracks, when I turned around, I couldn't see a free spot – floor and the lower seat area of the Arena were packed. 9 500 – 10 000 people were attending this event, as I found out later.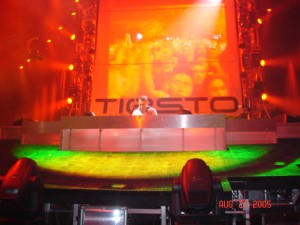 My Highlights of the night:
Tijs! Thanks for "The Darkside of the Moon". I noticed you winked at me a few times while playing this track, I know that you knew it was my newest favorite track.
Chris!!!! I admire your talent and I think Tijs is really lucky to have somebody like you to work with him. Your visuals were absolutely awesome. Great job!
Meeting some of the LA's TAs. Sorry guys, I haven't had more time to spend with you and get to know you better. Michelle, you looked hot hot hot!!!
Security people, who started to bring water for whose, who were standing in the first few rows and didn't have any access to drinks. I have never seen security to be so concern about the crowd. They made it so much better! LA Sports arena got an A+ crew.
Moment when the show was over and Chris came with a half full bottle of Moet. We were passing this bottle around making our little celebration party.
And…
Erwin Z. It was 3 in the morning. I just left Arena and were driving back to the hotel when I received a phone call from you. I truly wish you were there with me.
We left a venue at 3 am and went straight to the hotel. I knew there was a planned afterparty, but we were too tired to go out. I hoped everybody who went to see Second Sun had fun. I ran into Adam White the next morning in the lobby. We had a really nice chat and he promised to come back to NYC soon.
Sunday was a lazy day. "The Team" was relaxed because everything was accomplished with a great success. We got a very late brunch on the terrace and then went to the pool. A bit after 3 pm Marques Wyatt came to "kidnap" me for a couple of hours and we drove to Santa Monica. Did I say I adore Marques? I had a really nice evening with him at his house. When I got back to the hotel, a limo was already waiting outside to take Dimitri and I to the airport. We had to catch our flight to NYC at 10 pm.
This is it. Needless to say that the flight was exhausting and I was completely dead when I got to the office on Monday morning. Wrecked but happy. It was a good trip!
Thanks to:
Tijs for a great show!
All the people I have met and haven't met – Payman, Matt, Michelle, Herbert, Hong, Elizabeth and others.
LA Sports Arena Team for being so attentive and polite.