I started this blog in September, 2014 when I was diagnosed with the primary mediastinal diffuse large B-cell lymphoma located near my heart. Prior, I had very little knowledge of cancer, its types and treatments but when I was finally facing the cruel diagnosis, I realized that the more I knew, the better I would be prepared to deal with it. It definitely helped to search online and read other people's posts and comments about their ordeals, but some little questions still arose – would power port installation hurt, how would chemo or post-chemo feel, do I need somebody around me after chemo or I can handle it on my own and others. That is why I am writing my blog, to share little details that many people neglect to discuss but for me, the entire cancer battle consists of those little bits and pieces, daily nuances.
Wednesday, October 1, 2014
Orel, Dr.J.L. assistant called in the morning to schedule my power port installation for Saturday, October 4.
At 1.00 pm, Dimitris and I had an appointment at the Ronald O. Perelman and Claudia Cohen Center for Reproductive Medicine at the New York Presbyterian Weill Cornell with Dr.D.G in regard to a potential embryo freezing (medically known as Embryo Cryopreservation). We met with the doctor and discussed our the options. As a lymphoma patient to undergo the chemotherapy, I have about 25-35% chances becoming infertile after the treatment. Chemo would age my reproductive organs by approximately 5 years, cause an early menopause and with a 2 year waiting period after the first chemo, if everything goes well, I was looking at a 37 y.o version of myself with 42 y.o ovaries. It isn't a terribly bad situation, since I still have about 60% chances to conceive a child without any difficulties after. However, things could become more complicated if I have to undergo another chemo or other treatment – there would be no more time to harvest and freeze eggs.
Dr.D.G. explained the procedure – daily hormone shots administered at home with every other day blood work and transvaginal ultrasound, then a trigger and a small 15 minutes under anesthesia needle surgery to retrieve the eggs. Since I have a partner, my husband Dimitris, the eggs would be fertilized with his sperm and embryos would be frozen. Apparently, frozen embryos have higher chance of survival than frozen eggs. We were given a package of documents to look through and Dr.D.G. administered a medical exam, took culture and ran multiple blood test. Before leaving the Center, we were scheduled for the next day 9 am class on how to administer hormone shots at home.
Dimitris and I had many things to consider. First of all, whether I wanted to delay the chemo treatment by 2-3 or more weeks. Secondly, we always thought of having children and even discussed it before getting married. Now, we faced a possibility of never having our own biological child or we could make a decision which would give us a chance. Personally, I wouldn't mind raising an adopted child or a baby of my husband, but I knew that Dimitris always wanted our children to resemble me and this was a deal breaker. I was going through cancer but Dimitris was equally involved in everything, he might not felt the physical pains but he was by my side every step of the way and even though it would make sense to be selfish and start getting chemo immediately, to rid myself of cancer, I decided that I would take a risk of delaying the treatment and going through the IVF, so in the future i won't have any regrets for letting my chance slip. Of course, I was annoyed and a bit afraid of administering ton of hormone shots on daily basis and then to undergo a surgery, but it would also buy me a few weeks to get healed from the port installation and more importantly, it would give me time to get myself together. Everything unraveled so quickly, I had no time to stop and comprehend the situation as a whole.
Dimitris left the decision up to me and i have decided to proceed with IVF.
At 3.20 pm, I had an appointment for my Echocardiogram, which we had to wait for an extra hour and later we met with Orel who checked on my bone marrow biopsy and gave me a requested flu shot. My bone marrow biopsy was healing nice, it occasionally hurt but was very bearable. We also informed Orel of our decision to go through IVF so that Dr.J.L. could delay chemo and make according planning too.
Thursday, October 2, 2014
Promptly at 9.00 am we were back to the Fertility clinic to attend an hour long presentation on how to administer the hormone shots at home and what to expect after. The doctor explained what two types of medication I will be injecting myself with (Gonal-F RFF Pen and Menopure), every day from 7.00 pm – 10 pm window for about 10 days, then I would "trigger" myself 36 hours prior to the egg retrieval surgery. Every other day, I would have to come to the clinic for a blood test and ultrasound to see how my eggs develop and grow. Ideally, doctor wanted to get no less than 10 eggs 17-20 mm each, but because I was under contraceptive for 3 years, it could take me a few extra days to grow the follicles to the acceptable size.
At 10.00 am we had to be back to NY Presbyterian Cardiothoracic Unit for my two week post surgical biopsy follow-up.  Dr.J.P. saw me, examined the outside of the cut, since it was still covered by the sticky straps, and explained how to remove them  – soak with a sponge in the shower and peel them off. It healed very good and he was happy with the outcome. Indeed, 13 days after the surgery I felt perfectly fine, except for a 5cm scar, which I hope will eventually diminish.
Then, we ran back across the street to the Fertility clinic to speak with an advisor and the nurse who would be responsible for my daily tests and hormone intake. Together, we penciled down the initial plan for the medication and retrieval date, but we knew that all will depend on how fast I produce and grow follicles since my case wasn't an ordinary one. I took another hormone test which showed that I can start my medication immediately the same evening and after 3 hours in the pharmacy, negotiating between our medical insurance policy and urgency in acquiring the right medication immediately, we managed to find a compromise and start the injections on the same date.
My first 3 days regiment was 225IU of Gonal and 150 IU of Menopure with a follow up blood test on Saturday, October 4. Orel also reached out to advise me to start taking 60mg Prednisone (steroids) to have me running with one pill of Nexium to keep my stomach at bay.
The ball started to roll!
Saturday, October 4, 1014
Friday was by far the most peaceful day in the last 2 weeks, I felt much better, I had no more wounds to heal and it strangely reminded me of what normal life is like. In the morning, we received a Fedex box from the pharmacy with all the necessary medication and it was one big box!
Since we got part of the prescription the day before, I started the injections the night before and it wasn't as bad as I thought it would be. There is an physiological barrier when you think about injecting yourself with a few needles, but once i've done it and it didn't feel bad, I was comfortable doing it again without fear.
I did as Dr.J.P. told me – soaked up the biopsy cut and peeled off the rest of the bandage. Cut, under the bandage, looked better than I expected, it looked practically healed, and it didn't hurt anymore. It took me 2 weeks to finally say that this part was behind me.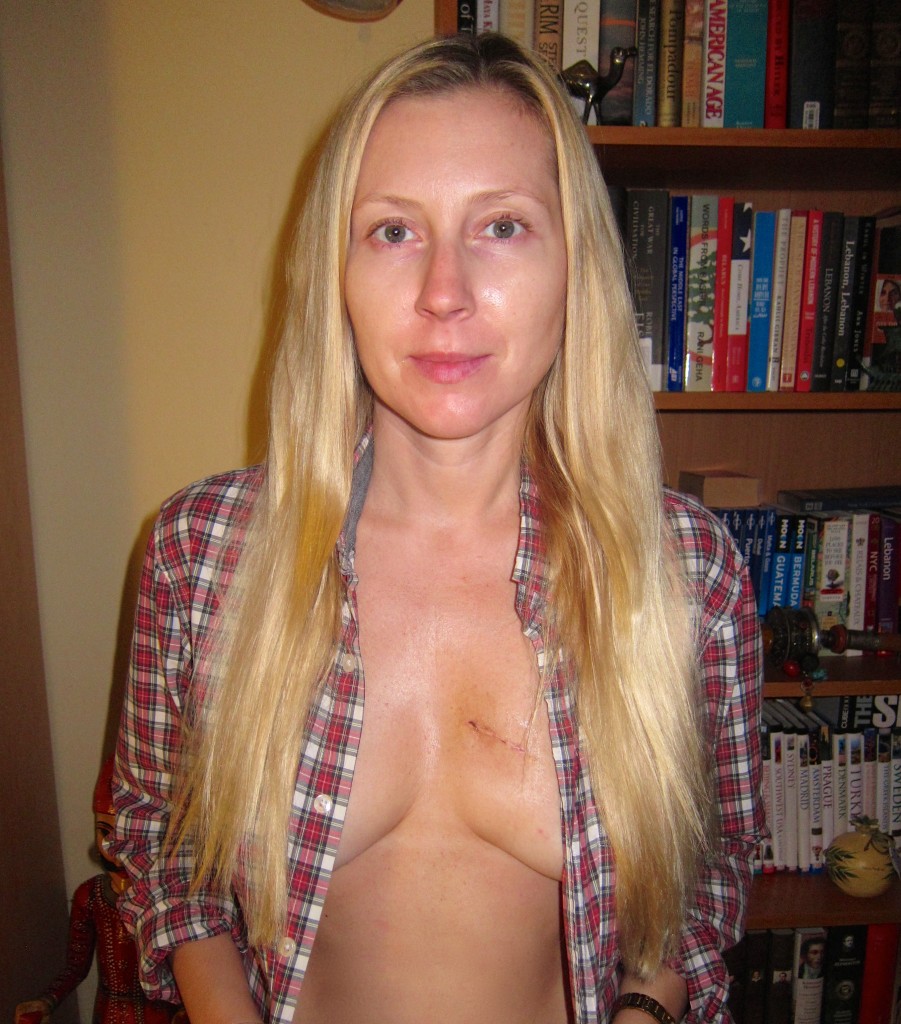 Considering that I already went through biopsy and healing, I was looking for the power port placement as another necessary procedure but a minor one. We were scheduled for 11 am on Saturday, October 4, but we received a call in the morning asking us to come ASAP since they had a cancelation. We were already up so we just took a taxi and headed straight to the NY Presbyterian Department of Radiology.
I was admitted and set up for the surgery. Nurse took a urine test and blood pressure (they really like taking blood pressure all the time) and had the Dr. of interventional radiology D.L. speak with me about the procedure. Apparently, hospitals in the US stopped using direct veins as a way for the chemo over 20 years ago. Now, they installed so called "power ports" with one or two cushions and a tube, 30-40 cm long that goes straight through the vein. In this case, doctors don't have to poke your veins all the time, they can attach it safely to the port and medicine would go where it is needed. The port can stay in place for up to 4 years and be removed once it is no longer needed. I was getting a double port to administer multiple medications at once, it was a size of a walnut split in half.
The scary part was the placement of the port. I was expecting at least full anesthesia, but it was all done under sedation and topical anesthetic. Indeed, I was sedated but it doesn't mean I was unaware of what was happening. We chatted with Dr. about how we met our spouses and we had a lot in common. His wife was his high school classmate and my husband was my post grad colleague at Oxford. He was of Chinese descent and I lived in China for some time, so we shared our experiences. However, I truly wish I was under the full anesthesia. Indeed, after the initial topical shot I felt nothing, but the feeling of him stuffing me like a Thanksgiving turkey was hard for my brain to process. I didn't feel pain but I felt the port being pushed around and the tube going through the opening made on my throat. I can't explain why, but physiologically it was very hard to accept.
Surgery took about an hour and after I was brought back to the recovery room, we waited for Dimitris to come back from his meeting with a realtor (a few days earlier, we decided to move from Queens to the area near the hospital on the Upper East Side in Manhattan and were already looking at some apartments). I didn't feel well after the procedure, my neck was hurting every time I would swallow, I felt dizzy and  I was in definite distress. I haven't felt as bad even after biopsy, and the port placement was supposed to be just a "procedure" not a "surgery". I was given an instructions not to take showers for 3-5 days, take Tylenol if i have minor pain but that was it.
I won't hide – that day was the worst day so far. Not only was I in terrible pain, but also I was running in my head the procedure itself, feeling the port shuffling above my chest chamber. If I held myself calm and alert until now, I literally broke down in tears and fears by the time we got home. Eventually, I took Oxycodone (Tylenol my ass) which took the pain away and made me relax.
It did get better as the days went by. A day later, it was slightly better; on Monday even more. I continued to take Tylenol during the day and Oxycodone at night for two more days. I have read a few blogs about people's experience with the port and it seems to vary, some felt absolutely nothing and took it as a routine procedure, but others were in pain for weeks. I guess I was somewhere in the middle, but I hated the whole thing. I feared and hated it.
Sunday – Friday , October 5 – 10, 2014
Since we started the IVF program, every other day from 7.00 -8.30 am I had to show up at the Fertility Clinic for the blood test  for HL (Luteinizing hormone) and  FSH (follicle stimulation hormone), and ultrasound. Sunday morning, we took a taxi to the hospital, did all the exams and after scheduled an appointment with a realtor to see a few apartments Dimitris saw the day before. I frankly didn't like the apartments  – New York City, and especially Manhattan is a real estate horror story. If you like the apt, most likely you can't afford it, and if you can afford it, it will be rat-infested studio in a basement of a pre-war building somewhere in Alphabet city.
To deal with cancer, I have to have a happy apartment – sunny, spacious and preferably with a balcony. However, our search was just starting so we had our hopes high. We saw one apt on the East 79th street that we both liked so we decided to negotiate and see whether there is a possibility to move in asap.
There was another issue I had to deal with – to have my mom come from Minsk and help me deal with the disease. Since we came back from the honeymoon on September 1, Dimitris took time off from work and was still on hold due to the delay in treatment. Because cancer came suddenly and painfully (which is a strange occurrence since lymphoma is usually a quiet settler), there was no question of him leaving me alone at any time. My mom agreed to come to New York and with all the necessary papers and a letter from the NY Presbyterian Cornell we filed for her emergency visa.  Even though her initial interview day was January 14, 2015, I managed to expedite the date and by Thursday, October 9 she left the US Embassy in Lithuania (Belarus doesn't have official relationship with the US) with a multiple entry US visa valid for one year. Knowing how hard it is to get a US visa from the former Soviet Union countries, I am forever grateful to the US consul who speedily granted my mom a visa – having her here will definitely be a great emotional, physiological and physical help for me and Dimitris.
On Monday, October 6, 2014  Fertility Dr.D.G. called to update me on my test results and asked me to add another medication to my list, an antibiotic. So, as of now, i am on 300IU Gonal, 150IU Menopure, Azythromycin, Nexium and 60mg Prednisone a day, with or without Tylenol PM which I still took whenever I had pain.
Dimitris was also asked to run a few tests with our PCP Dr.M.M. and have his semen examined. Here is the worst part – as an egg host, I have to go through daily blood tests, double/triple daily hormone shots, ultrasounds and a surgery or two; as a sperm donor, he has one blood test, takes 10 days worth of antibiotic and jerks off twice in a private room filled with porn – once for the sample and once for the actual fertilization. Now, please tell me where is the justice in this world?!
While dealing with the fertility issues, Orel kept in touch with me worrying that my condition might worsen due to the delay in treatment. Apparently, I had quite a bit of liquid collecting next to my heart and it started to get more and more apparent as the days went by. It was getting more difficult to breath and sleep too. However, she gave me clear instructions about when to stop and rush to the hospital, so as of now, I am keeping a very close look at my condition. It would be a terrible loss of time and opportunity to spend 10 days trying to grow your eggs and not being able to retrieve any, but my health is still more important. As long as we knew what we were dealing with and what to be aware of, we thought we were playing safe.
On Thursday, October 9 we went for another blood test and ultrasound. My port surgery was healing very slow and painful but it was a nice and sunny day in NYC so we felt like staying in the city for longer and checking out wig shops. In the end, I will still need one. Of course, I had a perfect idea of having my own beautiful waist long hair cut out and wig made of it, but apparently, it is cheaper and better to buy a pre-made wig. As a person who never dealt with it, it was an eye opening experience – the quality of hair, the type of hair (European vs Indian etc.), the color, the fit, the care and million other things. I was overwhelmed with the information and had to think it over before actually making a $2,500-4,000 per wig purchase. Luckily, my insurance covers the "cranial prosthesis".
We also did a bit of window shopping – we stopped at Cartier to check out the watch I wanted and then at Van Cleef & Arpels to see and compare their iconic clover necklaces, also one of the top things on my list to buy. Things happened so fast that last 3 weeks seemed like a blur, a painful dark vacuum without an exit. Now, I finally started to wrap my head around the idea that my life will change, but hopefully, only for some time.
I am a big reader, but since I was diagnosed, I spend most of my free time watching TV. I finished watching The Tudors and started The Borgias. Luckily, there are plenty of options and I find it therapeutic. Eventually, I will go back to my New Yorker magazines that have been piling up for the last 2-3 weeks, but now, I discovered the pleasures of historic dramas and TV series, like "Red Band Society" and "How to get away with murder".
This is a picture of my port and biopsy taken on October 8, 4 days after the port placement surgery. I am still having a hard time getting used to it because it does hurt. Ok, it doesn't hurt as much as it was on the first day and it definitely gets better, but the cut near the neck isn't improving much. The swelling and bruising slowly going away, but i still have hard time moving my neck or swallowing.
Saturday, October 11, 2014 
Day 10 of the IVF treatment and we had another blood test and an ultrasound at the Fertility Clinic. This is an important day because at this stage, doctors could say the quantity and size of my eggs. We were hoping to have at least a dozen upon retrieval. Doctors could also tell with a certainty the exact day of retrieval which help us organize everything at home and prepare for the chemotherapy.
Apparently, I had 14 eggs size 10mm or over, which was great. The retrieval wasn't yet set but I think Thursday, October 16 would be the day and let's pray for it. Carrying so many eggs and administering so many hormone shots can make any woman go crazy, but I think we are handling it just fine. I am super bloated and feel like the skin on my stomach is reaping, because it is stretched beyond its natural state, but I still manage to negate the mood swings, tantrums and bitchiness of hormones. I guess it is the thoughts of cancer keep me focused and reserved. So far, it is working for us.
As of today, i will start administering another shot – Ganirelix Acetate– to prevent immature ovulation. As if two shots weren't enough, this one turned out to be a painful one.
After staying in confinement for almost 3 weeks, Dimitris and I decided not to forego our tickets for the New Yorker Festival and went to attend the talk by Malcolm Gladwell about liars and their catchers. I first read Malcolm Gladwell in my Literature 101 class in Baruch College. It was a part from "The Tipping Point" and it blew my mind off. After that, I have been closely following his art and of course, since he lives in NYC, it wasn't the first time I went to see him speak. Indeed, he is a very talented, well-read, articulate, intelligent etc person and a morning with him, and a few hundred others, was a treat. The talk was about liars like Bernie Madoff and their catchers like Harry Markopolos. I won't go into details, because I simply can't, but the resolution was that people are bad at spotting lies or liars, but those who are good, aren't necessary very likable people to be around. The conclusion Malcolm Gladwell made was he would rather be the Madoff than the Markopolos.
At 1.00 pm we had an appointment with a wig specialist at the Bitz and Pieces. After visiting 4 different wig shops in the city, this one looked like our final stop before we could make a decision and purchase one. The salon's staff and his owner, Mr. Barry Hendrickson were very attentive to Dimitris and I. Judging by the pictures of the celebs on the walls and Barry's wide knowledge of cancers and treatments, I guess this is the place where famous and cancerous come together. We explained what we wanted – as close to my natural look as possible – and they came up with some options. It is indeed fun to try different looks and styles, but we settled on one wig and purchased it on the spot. It would require some fitting and styling but it was made of natural hair (sadly, not european) and it looked very close to what I wanted. Price tag $3,050.
 Sunday – Thursday, October 12-16, 2014
The first egg retrieval date was set on Wednesday, October 15, and even though everything progressed as planned, doctors decided to postpone the IVF procedure by a few more days. Indeed, since I was on contraceptive for a few years, my hormones were suppressed and needed extra time to grow to the "accepted" size. As of Monday, blood works and ultrasounds were done daily to monitor the LH level and the size of the follicles, and I was asked to add another shot – Ganirelix– to prevent premature ovulation.
On Tuesday, October 14, Dr.J.L. asked me to come for the ontological follow- up since we last saw him on September 29. He wanted to run some blood work as well and check on me and my condition. For the very first time, they drew blood from my port and I have to admit that it was scary.
I was brought up to a chemo-administration room with 6 chairs – four of which were taken by two chemo patients with bags attached to the polls and by two other people who accompanied them. Dimitris stayed in the reception area since I didn't think I needed him for my blood test. People were chatting with each other and I felt very uncomfortable. Being on hormones (it finally kicked in) and having your chest cut a few times in the last 2 week, don't bring the best out of me. I didn't ask for a separate room but I insisted on closing the curtains and keeping me in some kind of isolation from a man sitting next to me, who unstoppably gulped Coke and coughed, all at the same time. The nurse was super attentive and after examining my newly planted port, she very carefully proceeded while explaining every step of the way. First of all, she gently cleaned the area around port, then she asked me to choose either outer or inner port for use, then told me to breath normally and look away from the port and after the count of 3, I was supposed to make a deep breath while the needle would go in. Indeed, the feeling was strange but because of her kindness and gentleness in administering it, it wasn't bad. They say, I will eventually get used to it.
After the blood test was done, we waited for Dr.J.L. for another hour. When he finally saw us, he was in his chirpiest spirits as always. He quickly checked on my lymph nodes (I don't have any) and my tongue. The blood results already came back so he said that because I started taking Prednisone, my cancer diminished and my blood count was normal so I was cleared to proceed with  the IVF. We asked about the results of the bone marrow and apparently, everything was fine. But the main question I had on the tip of my tongue was the stage of my cancer – until now, I didn't know what stage of the mediastinal lymphoma I was – apparently it was the 2nd since they found mass in both sides of my chest – large on the left side and small but growing on the right. However, I had plenty of other questions written to ask him. Some of them were trivial, nevertheless:
Contraceptives, when and should I use it after the IVF and during the chemo: Yes, I should take all measures not to get pregnant during the chemo and 1-2 years after.
Vitamins, should I take any special supplements or vitamins during my treatment to smoothen the side effects? No, I can take a regular Multivitamin such as Centrum but I was not recommended to take anything additional since it can influence the effect of chemo drugs.
Acupuncture and massage. Should I get a prescription for a medical acupuncture and/or reiki massage to diminish the pain/nausea/vomiting/tiredness/depression and other side effects common for the chemo patients? It should definitely be an option as an alternative method but it wasn't necessary. I later found out that my medical insurance covers both.
Botox and skin products like Retinol and Retin A. For the last year, I started doing the Botox injections in my forehead and using the skin peeler Retinol, and I wanted to know whether it was wise to continue doing it or stop for the chemo treatment? I should stop in order to avoid unnecessary complications or infections cause by the Botox injections and products like Retinol. However, I could continue using any other over the counter cosmetic products.
Prednisone and its side effects. I started taking Prednisone on October 2 (60 mgs + Nexium to cope with stomach problems), however, I developed the metallic taste in my mouth as well as insomnia. I tried taking Tylenol PM or other over the counter sleeping medication, but to no avail. I started to skip one night of sleep, exhausting myself by 4-5 am only to be up at 6.15 am for my 7 am blood work and then sleep all night through the night after. So, it is slowly becoming some sort of schedule. Apparently, it was normal since Dr.J.L.didn't offer any additional medication to help me fall asleep.
After Tuesday and Wednesday tests and ultrasounds, it became clear that my eggs were ready to be removed, and trust me, I do feel like I am carrying an army of babies – my stomach is swollen and bloated and my mood swings go from sweet to sour in a span of minutes. On Wednesday night, I was given an order to "trigger" the eggs by injecting my last shot – Ovidrel – to induct the final follicular maturity, precisely at 11.15 pm. According to the procedure, I have to have my eggs retrieved 36 hours after administering a shot, that is on Friday, October 17 at 11.15 am.
Thursday, at 6.30 am, we showed up for the pre-op consultation with a nurse. They took blood work, blood pressure and performed the last ultrasound. We were explained the entire procedure once again – I will be under the IV general anesthesia but without a throat tube for about 15 minutes (the duration of the entire surgery) and after 30-45 minutes in the recovery, I can go back home and expect cramps or little blooding or spotting, nothing more. Unlike most of the patients, I won't be given antibiotic because I was already assigned for a different chemo regiment. Dimitris also got his "sperm donation" instructions which include:
thorough shower with an antibacterial soap the morning before
presence of an ID
abstinence from ejaculation for 2-5 days prior to the schedule retrieval
Fairness?!
After the pre-op appointment, we went to see Raffaele Mollica – a legend in the world of wigs. I still didn't give up an idea to have a wig made of my own hair and he was a perfect person to speak about it. Indeed, we could purchase something similar to the hair of my style but I needed a 100% natural European blonde hair. We had an 1.5 hours consultation with him and he was happy to accept the challenge. I am yet to visit him once my hair start to fall out so he can cut me bold!
Updates on my cuts: surgical biopsy is fully healed though I am afraid to touch it as it freaks me out; bone marrow biopsy cut closed up long time ago but I feel a pinch here and there when I sit down; and the port is just there, I keep stretching my neck every day to slowly place the tube in the right place, otherwise, I still feel like a Frankenstein.
Friday – Tuesday, October 17-21, 2014 
Friday. We had to show up at the 8M floor of the main NY Presbyterian hospital for the IVF procedure at 8.15 am. Dimitris and I were quickly registered and sent to our departments to get ready for the egg retrieval for me and sperm donation for him. Obviously, those two experiences can't be compared since I had to undergo a proper 15 minutes surgery under the anesthesia and he had to go to a comfy room for some fun time.
I was checked in, my vitals were measured and IV was installed into my left arm. An anesthesiologist wanted to have another chat with me since I wasn't a "regular" IVF client but a cancer patient. After clarifying a few questions, he cleared for the surgery.  I had to wait till about 10 am to be called for the pre-surgery and surgery. Meanwhile, the Oncological Room Unit called to confirm that they had a bed for me and I could start my chemotherapy tonight. They told me to wait for the follow up call with the exact hour to show up. It indeed was about to start today.
The egg retrieval surgery took less time and energy than I thought. After the incisional biopsy and port installment surgery, everything in the surgery room looked familiar. I came in, took my pants off and lay down with my legs straight on a special bed, I believe they covered me with a blanket since it was very cold in the room. The anesthesiologist was already administering some drugs and the next thing I remember happened already in the recovery room. Immediately, I was told that they retrieved 9 eggs which was great news, however, they had to call us the next day to inform how many of those 9 were turned into the embryos.
Dimitris came and spent about 30 minutes with me in the recovery after which I was dismissed to go home. I felt some cramps but was definitely ready to go home, since I had to pack my bags and move in to the hospital for 4-5 days.
We arrived to the 10th Central floor of the NY Presbyterian (Lymphoma and Myelonoma Oncology department) at 4.00 pm, very quickly settled into my room 201B with lucky bed by the window and nurses and PA were already working on getting me started- blood work, vitals and so on before starting the first drug – Rituximab (or Rituxan) – medicine that destroys B cells and is therefore used to treat diseases which are characterized by excessive numbers of overactive B cells or dysfunctional B cells. R-EPOCH, my treatment, would consist of one 250ml of Rituximab, 4 packs of three drug- cocktail for 24 hours each and one more pack before I leave. After 7.30 pm they received the blood results and I was confirmed to begin the first pack of Rituximab the same evening. We started at 9.30 pm.
The plan was to start at 25ml/h for 30 mins with vitals check every 15 mins. Then my dosage was increased to 50ml/h for 30 minutes and I started to have a reaction on the drug. It was already around 11 pm and I was working on my laptop and didn't really pay attention to how I felt but when the amazing nurse Kelly came to check on me 15 mins later, she found me all covered in spots with my throat slowly closing up and preventing me from breathing. The PA was paged and he ordered for the chemo to stop immediately. I was immediately given more Benadryl and other drugs to get me back to normal and I slowly recovered in next 1.5 hours.  A pack that usually is emptied within 2 hours took me a whole 9 hours to complete – at 5.30 am I was finally left alone. It was a sleepless and scary first night, but the good thing was to know that we have to go slow next time and once the pack is over, there aren't long lasting direct effects.
Saturday. As of now and for the entire stay at the hospital, my vitals and blood would be taken at 5.30 am and I was given Senna, Colace and Prednisone 100mg. Kelly came back at 5.30 am to take my blood test and after the visit from the doctors, I was allowed to start the second part of R-EPOCH – a combo of Vincristine (Vincasar PFS), DOXOrubicin (Adriamycin) and Etoposide (Toposar). Four – 24 hours packs in a row – 96 hours of unlimited chemo at 43ml/h rate, who wouldn't want that?! The side effects of the pack are constipation, nausea, lack of energy, mouth sores but I was given all other medication in advance to beat the side effects – Senna and Colace for stool, Zofran for nausea, Biotene and Magic mouthwash to wash my mouth every 4-6 hours. First day, I was obviously tired due to lack of sleep, but I stayed very active and positive, seeing that I wasn't experiencing any side effects yet – drinking plenty of water, walking the hallways with Dimitris and chatting with people were my own additions to regiment.
The same morning, I received a call from the Fertility clinic and they informed me that out of 9 eggs they retrieved, 3 were empty, 3 were undersized and 3 were fertilized and frozen as embryos. We had 3 babies in tubes! However, the nurse said that doctors would try to grow the small eggs for another day to see whether they can fertilize more and would call tomorrow to confirm. The more the better, but we were happy with 3 too.
Sunday. Second night at the hospital was slightly better, since I got about 4 hours of sleep. I still felt good and had plenty of energy but I definitely developed constipation and was given laxative MiraLAX. In addition, I drunk a glass of prune juice and a glass of papaya juice (since long time, I discovered that papaya fruit does miracles to my stomach). At some point I developed almost a warning fever 37.9C with 110 heart rate but after getting back to bed, my vitals went back to normal. At 11 am I was taken off the first 24 hour pack, took a shower and was hooked back on pack #2.
I have to mention that had a very "interesting roommate" from Montenegro with a very large family who always sat by her bed. When she was alone, she would curse and scream at the nurses on every occasion, at some point even for not liking somebody's voice. She had the 4th stage of lymphoma and she was bed ridden but only for the time her family was around, the moment they leave, she would order and consume the entire lamb all alone. I never saw a sick person eating so much food. By chatting with her, I realized that she was either disappointed with her life, depressed or simply a mean person and she didn't have any reasons to be – she was in the best hospital, getting best treatment and her entire 25+ people family was there for her. People are so incomprehensible.
I am still scared to share my diagnosis with people, even friends, so only 4 of my closest friends in NYC and some at home in Belarus know that I have cancer. Sophie, Elena with her mom and Jeff, showed up to keep me a company. It is very therapeutical to have them around, even for 30 minutes.
And yes, we got another call from the Fertility Clinic, they managed to save and fertilize one more egg. 4 eggs is 25% better than 3 eggs. We were very happy.
Dimitris stayed with me till very late, he definitely feels lost and lonely in our apartment and I saw how much he didn't want to leave me, but tomorrow, after 7 weeks of honeymoon and 7 weeks of taking care of me, he is finally going back to work. It kills me to let him go as much as it kills him to leave me, but after a few more days, we will be together again.
Monday. Another sleepless night because a new roommate moved in at about midnight, she was having a hard night and so did I. Despite taking all the preventive medication, chemo finally got to me – at 7 am I developed a dull chest pain and I immediately let the PA Lily know. She administered the EKG and after comparing it with the one they had on file, it looks like this pain is the result of chemo breaking my lymphoma in pieces. If this is true, I can tolerate it for as long as I have to. Today, they added some more medication for me – Bactrium 160mg (antibiotic that treats different types of infection caused by bacteria), Allopurinol 300mg (to decrease levels of uric acid in people who are receiving cancer treatment) and Valacyclovir (to slow the growth and spread of the herpes virus so that the body can fight off the infection).
I still stay pretty active, walking around and having my fitbit work for me, however, I can definitely see the side effects start to creep out – first came weakness after standing for 30-45 minutes, then sense of mild nausea from smelling cooked salmon, but so far, no bleeding mouth soars since I wash my mouth every 4-5 hours. I also got my first bowel movement today, first in 3 days! It is very manageable and I hope it will stay this way. On the good side, Dr.J.L, who apparently doesn't come to the floor often, showed up to check on me which surprised the entire Onco department and made me feel very special. According to him, everything looked great and frankly, after 4 days in the hospital, I myself realized that I was the healthiest onco patient on the floor, I have no complains.
My new roommate, Renee, turned out to be a wonderful woman. She is 75 y.o. and for the last 2.5 years she has Acute Myeloid Leukemia, a decease which is not treatable, but requires continuous blood and platelets transfusion simply to prolong life. We spend hours talking to each other and I knew that I acquired a friend, she is bright and high spirited despite the fact that she spends most of her life on the hospital bed. I couldn't have wished for a better encounter.
Tuesday. Finally, with help of ear plugs and sleep mask, I was able to get 6 hours of sleep. My schedule remains the same and very busy –  5.30 am wake up for blood and vitals, pills, breakfast, some work out, change for pack #4 (my last cocktail pack), chat with Renee and floor attendants, Dr.J.L. came again to check on me?! At first, I thought I would go mad from boredom at the hospital, but I barely have any time between routine things and some exciting things that are happening here. For ex. today we had a 1.5 hours musical performance by two musicians (piano by Natasha Paremski and cello) from London Philharmonic.
And tomorrow, the 10th Central has The Nourishing Kitchen cooking classes. I hope to be released tomorrow, so unfortunately, I won't be able to attend.
I also spoke with the social worker in regard to home aid in case I need some. At the moment, neither Dimitris nor I know how I would feel in the next couple days to few weeks, so we wanted to make sure to get all necessary information and be prepared to hire somebody to stay with me at home till my mom comes.
The best news of today was that we found an apartment in Manhattan on 69th St and 3rd avenue, in a beautiful neighborhood and only 3 blocks away from the hospital. We finally signed a lease and are ready to move in on Oct 30. I couldn't have been happier and I know I should thank Dimitris that all those things came true, he is the one who did the leg and paper work to secure a better place for me to be. Along with the apartment, came tickets for my mom – she is coming on November 2.
Wednesday – Friday, October 22-31, 2014
Wednesday. Last day of chemo and I was anxious to go home. My cocktail pack ran out at noon and the nurses immediately hooked me on Cyclophosphamide – last of 6 drugs that I was supposed to receive as my R-EPOCH regiment. I got to admit that every "change of pack" procedure is quite ceremonial – nurses come dressed in, what I call, "ebola suites" in groups to match the pack to a right recipient, every their move is calculated, choreographed and precise; by the 3rd chemo cycle I have learnt all the details of each procedure.
Cyclophosphamide, which ran for about an hour, made me really dizzy so I crawled back in bed. When the pack was empty, I slowly packed my suitcase, checked-out with the nurse, got my discharge medication list and left for home.
I have to thank everybody on the 10th floor at the NY Presbyterian for the care and support they gave me, for the knowledge and great attitude they shared with me throughout 6 days I spent there during my first chemo treatment. I have learnt a valuable lesson that cancer diagnosis is frightening, life-changing and to some extend an unacceptable thing, but I have met people whose diagnoses were deadly, but they continued fighting to the end, exploring every mean, experimental drug or even chance. Sadly, their stories won't be heard by others.
Dimitris was at work, so I took a taxi home alone and tried to settle in our apartment. Now, looking back at the first day and especially night at home, I have to admit that they were the scariest and most difficult hours I have had. Even though, I had a list of medication to take, I was very confused about when and what to take. The list went:
As the evening progressed, I became more and more anxious about being at home and not at the hospital where help can come at any time. I was warned that the real side effects of chemo would start after the discharge and I thought I was prepared, but in reality, I was terrified. First came chest pains, from the middle of my chest they started to spread to every chest cavity, getting more and more severe. I went to sleep around 11 pm but couldn't relax because I thought it would die of heart attack. Then I started to hallucinate, I tried to wake my husband, thinking that our apartment was on fire and this is exactly what I saw – a room filled with smoke. At 2 am I got up because chest pains became unbearable and immediately vomited, luckily the anti-nausea medication worked for the rest of the cycle. Chemo started to show itself in its ugliest and I wasn't ready. In pain, fearing the darkness of the night, unable to wake my husband and feeling utterly alone, terrible thoughts of suicide kindled in my mind. I clearly remember the track of my thoughts, I knew what I was facing and how many people went through this before me and got better, but I was also very aware that for some reason I couldn't go through this and ending my life seemed like the only way to free myself from the horrors of cancer.
I didn't commit suicide but i will remember that night forever.
Thursday – Friday. Since i am writing this 2 months after my first chemo, I dont have a detailed recollection of the events, but I hope I have a good general snap shot of what followed. First 3-4 days after the chemo, I am feeling "dead". It is a condition when I can't really tell what hurts because besides chest pains, I don't really have "pain", but I feel very VERY sick. Those days I try to stay home, visit my doctor for the blood work and read… and I count hours, because the more time passes, the better I feel. I am grateful for a direct correlation between one and the other.
Thursday. I was scheduled to take Neulasta shot (to bring my white blood cells back to normal) on Friday, and due to its main side effect such as a severe bone pain, I was advised by the PAs at the NY Presbyterian to start taking Claritin the day before, on the day and the day after the shot. Apparently, the ordinary Claritin had a power of diminishing the side effects. Barely made through the day, nausea and lack of appetite became my best friends.
Friday. At 9.00 am, I came to the Dr. J.L. office for blood work, follow-up appointment and a shot. I was in definite state of distress and after hearing about hallucinations and thoughts of suicide, Dr. prescribed me Lorazepam 0.5mg, an anti-anxiety medication. All other side effects seemed pretty normal to him. Orel administered a Neulasta shot and we were free to go.
At 10.30 am, I had an appointment with Raffaele Mollica – the wig master himself- at his studio. I decided that it was the right time to cut my hair. I thought that seeing my long beautiful hair fall would be too traumatic for me, so I took an initiative and let Raffaele cut it in order to make a beautiful wig for me, partially made of my own hair.
The same day, a good friend of mine from Oxford, Abdossalam, was visiting NYC. When I was diagnosed, he was one of the very few people I contacted because he is a great friend AND he is doing his PhD in cancer research, so I really looked forward to seeing him. We met up on the Columbus Circle and had a delicious lunch at the Time Warner Center. He really liked my uneven and shy pixie haircut, but guess what…. I had cancer and i made the first step to fight it, so I felt bold.
Orel called me later and ordered me to start taking antibiotics and constantly measure temperature; apparently, my WBC (white blood cell) count came back very low and Dr. was afraid I might catch an infection, so for the next 5 days I added antibiotics to my list. Later I found out that my WBC dropped to an extreme 0.4 level (normal 4-11) and stayed there for almost a week.
I won't hide that the recovery from the first chemo, or likely, the post side effects of first chemo were the most severe, petrifying and painful. The Neulasta shot gave me a moderate bone pain. I label it "moderate" because online I read some horrifying stories of "Neulasta's side effects" and even though pain slowly went through every single bone on my body, as if counting them, I felt it could be worse. Perhaps Claritin indeed worked.
On Sunday,  I started to feel numbness and tingling in my fingers – neuropathy. It is the weirdest feeling when your fingers loose their sensitivity and you no longer can control them. Now, two months later, neuropathy consumed all my fingers to the extend that i can't button myself, type, cook, feel cold or hot or open a face cream jar. I am trying to live with it but i am aware of my "disability" pretty much at all times. I describe it as if I had prosthesis instead of my real fingers. Not only are they numb, but also they hurt, all the time.
Another side effect was severe acid reflux; it went to a point when no matter what I ate or drunk, even water, i would have spasms in the back of my jaws as if I was eating a sour apple or suck on lemon. My stomach was totally messed up. I was prescribed Nexium and in the long run i think it helped.
Monday. We got a new apartment, so as soon as i started to feel more or less capable of doing things, I spent time packing the house and organizing things. One of the strangest and scariest side effects happened to me that evening. I was scanning some documents for several hours and after I was done, i turned TV on and found out that I can't see the screen. At first, I thought my eyes were tired from the paper work, but then, I looked around myself and realized that about 50% of my vision was gone. I was home alone and it was after 6 pm and despite not seeing the phone screen, I managed to call an on-call doctor who told me to immediately go to the ER where they would administer an MRI to see whether cancer spread into my brain and most likely do a brain biopsy too. By the time I hang up the phone, vision returned. I started doubting the chemo protocol assigned to me, what kind of drugs should i consume to lose vision? Was cancer treatment worth an ability to see? For the next week, my vision came and went a few times eventually returning to normal.
Tuesday – Friday. Blood work follow-up confirmed a very low level of WBC, and my doc was hoping Neulasta would finally kick in, which it did, on Friday. Meanwhile, the rest of the week, I spent packing, sanitizing the apt and slowly recovering. My appetite returned, though my sodium level dropped so I was asked by Orel to stop drinking water, which I drunk about 4 liters a day, and switch to Gatorade.
Even though, I was diagnosed in September, October was the month when I had my IVF, first chemo therapy, first side effects of chemo. It would turn out to be one of the hardest months for me but now, it is finally over. Those moments, hours and days are finally in the past.
October medical bill is $93,314.66