A trip to New Orleans came unplanned, and as most unexpected things, it turned out to be the best by its nature and results.
Last week was very eventful. On Monday, I got my Green Card; on Tuesday, I had my first interview on Sirius Radio and on Thursday, I got a promotion at work. Thus, I planned to spend my weekend in a quiet and relaxing way, but a single phone call to Austin on Friday night disrupted all my plans. A few minutes later, I was in a possession of a Jetblue ticket to New Orleans. I was going to see Gabriel and Dresden!
After work on Saturday night I headed to JFK to catch my flight. I arrived to Luis Armstrong International airport at 8.50 am to be immediately picked up by my friend Herbert.  I never been to New Orleans before, and anticipating to see the city after the hurricane Katrina, I asked Herbert to take me for a ride around town. It took us about 3-4 hours to have a full tour around New Orleans and the suburbs. I have to admit that despite last year's hurricane, the city (some parts of it) looked amazing. It carried that old dignifying southern accent in everything. And it felt as if somebody brought me back in time, to the era of Scarlett O'Hara (yes, I'm a "Gone with the Wind" fan).
While Herbert was driving and telling me the stories about New Orleans, I was snapping picture after picture, reaching more than 500 in just a few hours.  French Quarter with its Cafe du Monde and Sunday markets, Mississippi river walk – all was stunning even in +90F. Oh, the ironwork balcony rails – I absolutely loved them!!!!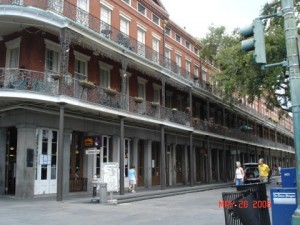 Then we went to the part of the city that got damaged by the Hurricane Katrina the most. All the houses, including the expansive and beautiful mansions, were abandoned with fateful stains on the walls, indicating the level of water rose during the hurricane. Just six month ago, those houses were gorgeous family estates, but now they all looked alike: windowless, ugly, depressing,  "crossed-circle" marked on the walls, indicating an inevitable demolition . I don't think we met any people or even any cars while we were browsing the empty streets.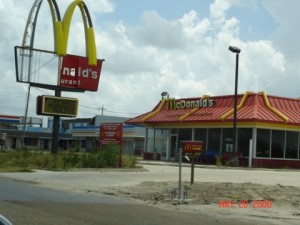 In the evening we (seven of Gabriel & Dresden's lovers) went to the dinner to Cafe East. I had two glasses of white wine and felt completely tipsy, when the time came to go to the club. Thank you, Herbert, for warning me about the small (and lame) New Orleans' tranceaddict scene,  but I was impressed by the music lounge Ampersand and warm and friendly Nola people.
We got to the club shortly after 11 pm. Gabriel & Dresden started playing about 30 minutes after and they rocked!!! They were dancing behind the decks, singing the lyrics of the tracks along with everybody else in a club and just having a good time.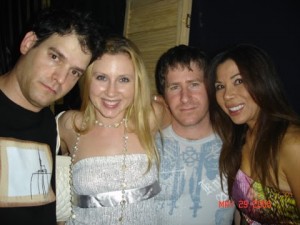 Tracklist (borrowed from Louisiana dance forum, thanks Thrillseekers)
1. Gabriel & Dresden – Dust In The Wind
2. ID – G&D Remix
3. Perasma – Swing to Harmony (Gabriel & Dresden Remix)
4. Gabriel & Dresden – Acardia + Acapella
5. Gabriel & Dresden – Mass Repeat
6. Gustavo Santaolalla – The Wings(Theme From Brokeback Mountain) (Gabriel & Dresden's Organized Nature Mix)
7. Rachael Starr – Till There Was You (Gabriel & Dresden Mix)
8. Gabriel & Dresden – Sydney
9. Coldplay – White Shadows (Gabriel & Dresden Bootleg)
10. Andain – Beautiful Things
11. Duoteque – Adyra
12. Gabriel & Dresden – Let Go
13. Paul Oakenfold – Southern Sun (Gabriel & Dresden Unplugged Mix)
14. Gabriel & Dresden – Eleven
15. Gabriel & Dresden – Tracking Treasure Down (Original)
16. Way Out West feat T. Kelshall -Mmindcircus (Gabriel & Dresden Mix)
17. Gabriel & Dresden – Dangerous Power
18. Josh Gabriel – Alive
19. ID
20. Above & Beyond – No One On Earth (Gabriel & Dresden Edit)
I adore Armin van Buuren, I'm absolutely dedicated to Tijs and I think Matthew Dekay is one of the most talented producers, but when it comes to G&D, I have to admit – they are my new music love.
On Sunday, Herbert, his wife, Hong, and I went to Cafe du Monde. We had cafes au lait and beignets. It was time to say goodbye to a wonderful city called New Orleans. One of the most beautiful places in the United States.
My flight was delayed and on the way to NYC, I've experienced the biggest turbulence I could remember. It was like a Cirque du Soleil with lightening striking outside of the aircraft and lights going off in the salon, illuminating everything with flushing red and orange emergency lights.
And.. many thanks go to:
Gabriel & Dresden, for a massive musical orgasm, for your talent and wonderful attitudes.
Herbert and Hong! I am grateful to call you my friends. Thanks for inviting me, for convincing me to come, for the CDs and heavy bags on the way home. I appreciate every moment I spent with you!
Everybody I met in New Orleans.
What is next for me? White party in Los Angeles with Armin van Buuren or Creamfields in Poland with Gabriel and Dresden. I still have time to think.