I'm back to New York, but I wish I got lost in a beauty of Australia, with its great cities, beaches and wonderful people. I'm so lucky to be able to see it with my own eyes and to come back with a different appreciation of the world. I love Australia and I'm planning to call it my new home sometimes soon.Here is a short review of my adventures and some recommendations for those, who are planning to make a trip to the continent of kangaroos. It was a completely new sort of experience, with lots of Australian food and wine, organized tours and incomparable beauty of the faraway-continent. I want to thank Jennifer, my travel mate. Girl, you are beautiful and it was so easy to get along with you! Guys at The Russell, Robyn, Guillhem, our dream diving team, particularly Steffen, Shane, Arek, Ned, Alstair, Oli, Timo, Oskar and my diving buddy Armin, and all the wonderful people I met along the way.

Day 1.  The Rocks, Circular Quay and Bondi Beach.

I arrived to Sydney at 6 am and passed custom's control in 5 minutes. Spending 27 hours on a plane wasn't as bad as I thought it would be, I was tired yet so excited to finally be there.

Jennifer was arriving much later, so I got on a Circular Quay bound train and 15 minutes later, I stood in front of Sydney Opera House and Harbour Bridge.  A breathtaking view;  I knew, I was in love!

I found our hotel, The Russell, right away. It was perfectly located in the Rocks (one of the oldest and most historical areas of Sydney) and we were given a very good deal for a room – $220 per night.

I need to mention that The Rocks is often referred as a birth place of Australia. Here in 1788 First Fleet landed its human freight of convicts, solders and officials and the new colony of New South Wales was declared. The Rocks is a taste of Sydney's past, but it's far from what it was like less than 100 years ago, when most inhabitants lived in rat-infested slums and gangs rule the streets.
As soon as I checked in, I went outside, into the early Sunday morning. Temperature was +23C during the day (+15C at night).  It's pretty good for the end of winter, isn't it? Sydney is not a big city and if you like to walk, you can see Circular Quay and the Rocks within a couple of hours. It took me this little to see everything in the neighborhood and come back to the hotel with a mission to take Jennifer on a tour around the area:  Sydney Harbour Bridge, The Rocks' Sunday market, Circular Quay with its Wharfs and Sydney Opera House.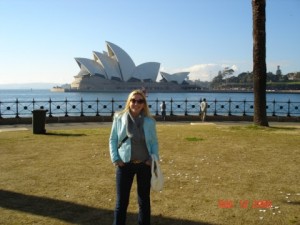 At 2 pm, Robyn, my OZ friend, picked us up for lunch at Bondi beach. We asked her to drive us around the city and suburbs and I felt amazed by the luxury of the mansions I saw on the Pacific shore. If you go to Bondi Beach, do not forget to check out Iceberg club, one of the coolest places I have ever been.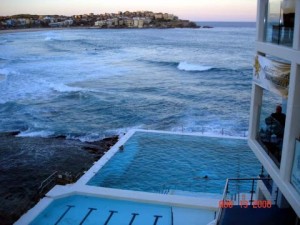 Video
Day 2. City Centre, Botanic Gardens and Domain.
Monday morning. We got up early to see City Centre and  The Royal Botanic gardens. It felt so special to just walk in the streets, in the middle of morning rush and don't worry about anything. If you wonder, why Australians are so fit, you need to look at the food they eat in the morning. It's fantastic. Instead of 20 types of bagels and muffins, they have a choice of 40 types of yogurts and fruits. It's a foodie's paradise!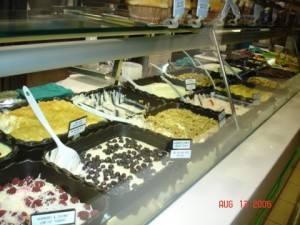 We spent a day sightseeing (George and Pitt Streets, Queen Victoria Building (Sydney's version of Saks Fifth Avenue), Sydney Town hall, Sydney Tower, Hyde park, St. Mary's Cathedral), browsing around and shopping.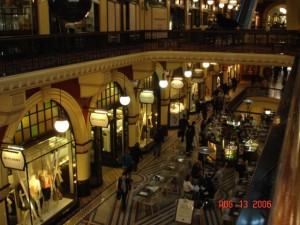 We ended up having a lunch at The Pavilion in a Park. I ordered Fish and Chips and a selection of cheeses for a dessert.  Both of them came with a few glasses of delicious Australian wine. Perfect park location inspired me to try my new purchase – a boomerang. A fact that it didn't fly back to me didn't disappoint me whatsoever. We got to meet a lovely French guy, who asked me on a date on the following day.
Because we lingered with our lunch, there was little time left to see the rest of the city, so we took it easy and went with the flow. Royal Botanic Gardens were the perfect place. It's an oasis of 30 ha in the heart of the city, wrapped around Farm Cove at the Harbour's edge. A living museum. Jennifer's highlight of the day were flying foxes clustered on the trees all over the park!
At 8 pm Jennifer and I headed to Forty One. As a foodie I couldn't miss a chance to try the best food Sydney has to offer. Forty One is  one of the upscale restaurants that offer tasting menus along with the a-la carte. The location, on the 41st floor of the skyscraper, was fabulous, however, food wasn't as impressive as I hoped, except for the Rock oysters. They were fantastic.  Bill was $350.
Day 3.  Darling Harbour, Chinese Garden and Kings Cross.
We started a day with a trip to Darling Harbour and its world famous Sydney Aquarium. It took us about 25 minutes to walk from The Rocks to this part of the city.
Darling Harbour is named in honor of the seventh governor of New South Wales Ralph Darling. Originally, it was called Cockle Bay and was known for its thieves dens and bawdy houses. Right now it's a mixture of super modern architecture, museums and shopping. No wonder I ended up there again a few days later.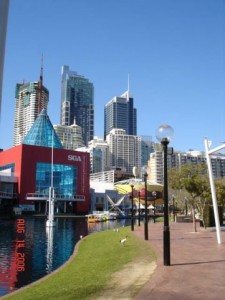 I am not a big fan of aquariums, but Sydney Aquarium contains the country's most comprehensive collection of Australian aquatic species, over 11,000 animals accommodated in the beautiful space connected by 2 underwater tunnels. Amazing!
After the visit to the Aquarium, we went to the Chinese garden of Friendship, where we took pictures of me dressed up (unwillingly) as a Chinese princess. Then, we checked out Chinatown, which was unexpectedly clean and empty and headed to Kings Cross and Darlinghurst.
Both these areas are famous for their street life and thriving cafe culture. Kings Cross exudes a welcome breath of Bohemia, in spite of the sleaze of Darlinghurst Road and the flaunting of its red light district. And of course, a famous Oxford Street that annually hosts one of the most known gay and lesbian parades in the world.
I expected to see a lot of prostitutes or some illicit action. Well, I was disappointed. Either I arrived in a wrong time or the hypes were nothing but exaggerated.
Rain forced us to take a train back to the hotel. I got to love Sydney's subway!
At 7 pm I went to meet my new French friend at Lenin bar for a drink and then we all went to Aria for a dinner. That is one of the best restaurants we've tried in Australia. We had tasting menus with wine pairing and it was delicious. Bill – $800.
Videos: Sydney Aquarium Part 1 and Sydney Aquarium Part 2.
Day 4. Blue Mountains, Sydney Olympic Park and The Rocks Ghost tour.
As every large city, Sydney had tons of tour operators and even more destinations to visit. Our hotel's concierge recommended us a trip to the Blue Mountains with OZ Trails Tours and Charters. It was only $70 per person and we got to travel with a very small group of people.
The bus picked up at the hotel at 7.00 am and by 9.00 am we reached our first destination – Aboriginal rock engravings. We did a bit of a bushwalk, took a Scenic Railway up to Katoomba and to the World famous Three Sisters rock formation.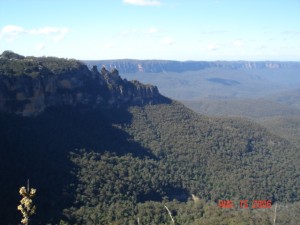 Waterfalls, picturesque boardwalks in the oldest rainforest on Earth, small villages (like Leura, where we had our lunch) lost in the mountains, my first time seeing Kangaroos :), it felt unreal. Only Japanese tourists annoyed the hell out of us. What a rude crowd!
After spending the whole day in the forest, we were brought back to the bus and transferred to Sydney Olympic Park and Telstra stadium. The final leg of the trip was on a cruise ship along the Parramatta River, under the Sydney Harbour Bridge to Circular Quay.
Yes, we did spend 11 hours on a tour, but there was more to come. We booked another tour that started at 6.45 pm  – The Rocks Ghost Tour – $35 per person.  The brochure we picked up at the info center sounded appealing: "Learn the bizarre facts that lurk beneath the surface of Sydney's historic Rocks as you are led by your ghost host on a lantern-lit walking tour
–         Mrs. Greenfield screams as she is chased by her knife wielding husband
–         What did Greenway Lane really lead people to?
–         Hear about the smugglers tunnel that runs form the Hero of Waterloo Hotel down the harbour.
–         Visit the sire of the murder of John William Manners
–         Why does the ghost of Cabin boy linger on Observatory Hill?
–         Why was the French valet so desperate to dispose of his masters mutilated body?
And so on. I loved the tour, but by midnight I was so overridden by fatigue, that I could barely follow our hostess- ghost storyteller's plot.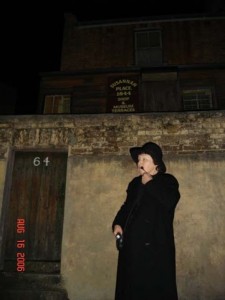 When we finally got back to the hotel, Guillhem was already waiting for me outside the Russell. Apparently, he cooked us a dinner, so I couldn't reject his invitation.
Day 5 and 6. Manly, Hunter Valley wine tour and Balmain.
As I have visited most of Sydney in a few days, all I wanted to do was to take some time off and go to the beach. Weather wasn't warm to swim, but pleasant enough to enjoy a  three- hour walk around Manly and to have lunch by the ocean. We ended a day at one of the cutest French restaurants in Kings Cross, having oysters and drinking Australian wine. Bill – $300.
On Friday, Jennifer convinced me to go on a boutique wine tour to the Hunter Valley. I'm not a big drinker, but I liked the idea, not every day you have a chance to go to the Australian private wineries for tastings.
We booked out trip with Boutique Wine Tours ($100 per person) and accidentally our tour guide was the same girl, as on our Blue Mountains trip. We were very excited, because Priscilla was phenomenal. Her knowledge of the area and the way she presented the information (from the Dreamtime legends to witty private comments about the wineries owner).
We got to visit three boutique wineries Iron Gate Estate, Tallavera Grove and Ernest Hill. There were only 6 of us, as an intimate group we got to try lots of wines. Of course, we purchased a "few" bottles (approximately $20 per bottle) hoping that we wouldn't have problems with the US customs on a way back. Australian Semillon and Shiraz are among the best in the World and it's almost impossible to buy them in the US. Now, since I'm back to NYC, I feel like an owner of the Australian treasure.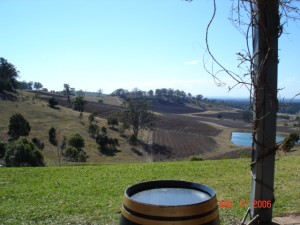 When we got back to Sydney, Robyn invited us to dinner in her neighborhood Balmain. It's a lovely part of the city, with lots of restaurants and shops. We had a great dinner at one of the pubs, where I found out what the best English pudding tastes like. Delicious!
Day 7. Shopping in Darling Harbour and Sydney Harbour Bridge climb.
I spent a day shopping at Paddy's market and then had a barracuda for lunch at one of the restaurants in Darling Harbour. As it was our last night in Sydney, Jennifer and I planned a Bridge climb, but because she didn't feel well, I had to go alone.
This is a must thing to do in Sydney. Even though it is pretty expensive (about $200), you would regret for not doing it.
I have never climbed a bridge before and 2 hours of preparation (suits, belts, cables, lights and so on) were annoying and worrying. We started a climb during the day light, picked the summit at sunset and descended in a complete darkness. Best time of a day to climb and see Sydney's beauty during the sunlight, sunset and at night.  This is an experience you definitely don't want to miss! I got my Bridge Climber certificate and a few pictures of me on the top of the Sydney Harbour Bridge. I couldn't have felt more proud of myself!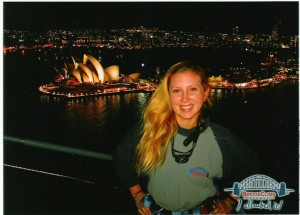 On my climb, I met a guy from, out of all places, Maryland, Lem; we ended up having a dinner together at one of the Circular Quay's restaurants. Nice time!
Videos: Paddy's Market
Day 8 and 9. Cairns, Queensland.

Accidentally, Jennifer booked a flight to Melbourne, instead of Cairns in Queensland, our next travel destination.  While I was on my way to the north, she was dealing with Qantas in hope to exchange her tickets and join me later at the hotel.
My flight was at 6.45 am and I arrived to Cairns shortly before 10 am. The town met me with a cloudy skies and wet, misty air.
We booked The Lakes Cairns Resort and Spa for the entire week, but, in fact, spent no more than 2 nights there. Before Jennifer arrived, I checked-in and walked around the resort. It looked magnificent – 4 restaurants, 3 pools, tennis courts, spas and so on. Pity we haven't used any of the facilities.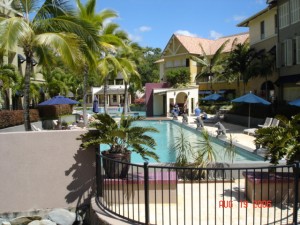 When Jennifer finally arrived, we decided to go straight to the city, check it out and have some food. While we were walking along Sheridan Street, I looked at the city and thought to myself: "Oh my God, what the hell am I going to do here for the whole week?" I was very disappointed with myself for not choosing some other destination instead. I thought of going back to the hotel and checking flights to either Melbourne or Red Center.  But our main goal was diving, that's why we came there and we couldn't leave without seeing The Great Barrier Reef.
We checked some stores and found an acceptable place to have a lunch/dinner right on The Pier, which served both, as a Marine Center and a Shopping mall. So, basically we were eating in a Mall. Unacceptable! Food was bad and by the end of our lunch/dinner, it started to rain. I already hated this place.
In the evening, we called ProDive to get some info about diving tours and classes, as I had only an ocean referral. Why ProDive? Because it is the best Dive School in Cairns, besides, it was highly recommended by some of my office folks.
We were lucky to get  a 3 days – 2 nights  live-aboard trip to the Great Barrier Reef. In order to join Jennifer on a boat, I spent the next day getting all my medical tests ready.  After I was done, I wander alone in the city and met Chris,  a professional bike racer. We had a nice chat about cultural differences in Australia, USA and Europe and he gave me some tips on where to go and what to do and what to be afraid of (not people, but snakes and crocodiles). Cairns didn't look that bad anymore.
Videos. The Lake Cairns resort and spa
Day 10. Kuranda and Tjapukai.
Jennifer and I had a free day to take a trip to Kuranda and Tjapukai Aboriginal park. We booked a trip with Down Under Tours for $150 per person and it was a complete waste of money. If we were familiar with the area, we would have done more for less money.
At 8.15 am a tour operator picked us up at the hotel and transferred us to the Kuranda Scenic Rail where we spent another hour slowly climbing a hill in a prehistoric train. It was a breathtaking journey with spectacular views of Tropical rainforests and Cairns. After arriving to Kuranda (cultural rainforest village), we had about 2 hours to check local markets and visit Koala Garden.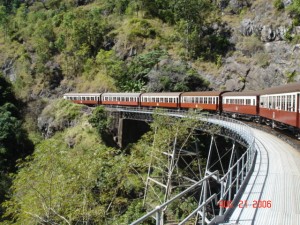 From Kuranda, we took the Skyrail Rainforest Cableway  to Caravonica Lakes and walked to Tjapukai Aboriginal Cultural Park. It was an interesting experience to interact with the Aboriginal people, take  a few classes of boomerang and spear throwing, see Tjapukai dance performance, learned about Bush food and medicine that Aboriginal people use. I even managed to practice my Didgeridoo playing skills (or as it turned out, no skills at all). I was literally drooling over every possibility to get to know and understand their culture better.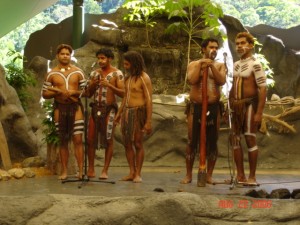 At night, we went to Pro Dive to get our gear picked and later attended an introductory course on the marine diversity of the Great Barrier Reef.
Day 10-12. Live-aboard of ProDive. The Great Barrier Reef.
My first live-aboard experience, my first open water dive, my first time seeing the most famous World Heritage on Earth – The Great Barrier Reef! How to describe something that is impossible to describe? 32 people on a yacht, fantastic multinational crew, unbelievably sexy diving instructor and tons of things to do! God, finally I got lucky!
Arek, Shane,  Steffen, Aaron, Oli and Ari, you are the best of the best!
In order to finally obtain my Open Water PADI certificate, I had to take 4 dives with an instructor and do all crazy underwater things –  buoyancy control, regulator recovery, fin pivot, alternate air source use, controlled emergency swimming ascent, full mask flood, BCD removal and replacement and so on. Some boring stuff, but Steffen (our German diving instructor) did a great job by making us do spins  and drink Coca Cola 18 meters under.
At first, I (and, I believe, most of the newbies on the boat) was afraid of water. I wasn't quite sure it was my thing, but Steffen's confidence in his "puppets" was contagious.  I fell in love with underwater world and I knew it was forever!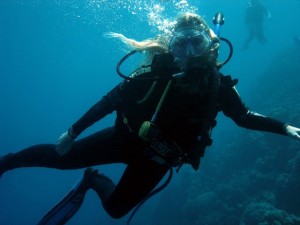 Our schedule:
–         get up at 6.00 am, have a cup of tea/coffee, go to stern, put your wet bathing suit on, literally squeeze into a wetsuit and place wet socks on (socks are very handy if your fins don't fit right), do a giant stride into the water and say good morning to your buddy.
–         Ascend 45 minutes later, have a 2 min shower, breakfast, and….go back to stern to get into your wetsuit again, jump into water.
–         2 hours break to let nitrogen leave your body, lunch, then….. back to stern for another dive.
–         some free time, dinner and a night dive.
In between we had meetings with our diving instructors, discussed what we have seen, done, our future dives and what we need to pay attention to.
It was a live-aboard boy scout camp. And I loved every moment of it!
I had 2 dives on the first day, and by lunch the next day I was a Certified Open Water Diver. Isn't it amazing? Now I was entitled to have a dive on my own! I picked Armin as my buddy and we had our first unsupervised dive together. It felt easy and free, just keep your buoyancy under control and slide between corrals. Giant Clams, hundred types of fishes, beautiful corral reefs, huge turtles and a shark. Wow, something I wouldn't even thought of seeing in my entire life! Ever!
After I was done with my Open Water course, Steffen offered me to get my Adventure certificate. It is a half way to the Advance qualification. Adventure requires 3 dives, so I completed a Night dive, Deep dive (29.5 meters) and Underwater photography dive.
I can go on and on about this trip, however, there are no words to describe the whole experience. You must go and see it yourself.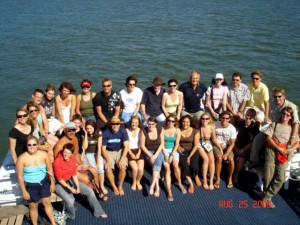 After we got back to Cairns, as a tradition, we met up at Rattle & Hum for dinner. Our instructors, skipper, crew members and all the divers. It was so nice to see everybody outside of wetsuits. I, myself, never bothered to brush my hair in three days on a boat. Well, food sucked at that place, crocodile was tough and rubbery, chocolate mouse cake in my Queens supermarket tastes better, but I had a few glasses of  wine, so I could care less about what to eat and where to go after. We went to the club and then.. I just remember I never got to my hotel that night.
Day 13. Wet Tropics Rainforest.
In the morning, I was dropped off by the hotel. 30 minutes later Shane came to pick me up and to take me to the parts of Queensland I had to see before leaving. Shane brought me to the mountain in the Daintree rainforest and told me to follow him. I didn't think it was a good idea due to a large possibility of stepping on some infamous poisonous creature. It was scary but I trusted Shane and it was so worth it.
In the end of our ascend, we appeared in front of the most beautiful place I could possibly imagine –  a waterfall. A real, wet tropics rainforest waterfall with no signs of civilization. What would you do, if you suddenly show up at place like this? Exactly, that's what I did –  took my damn clothes off and went to the water. I lived the moment!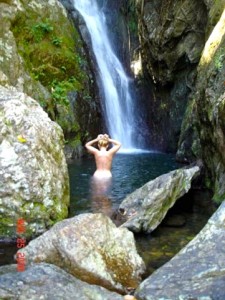 Later that day, Shane invited me to his friends BBQ party. You appreciate it more, when locals accept you not as a tourist but as a friend and invite you to their home parties.
Day was over and so was my trip. I got home at 3 am, packed my suitcases (three by then) and went to the airport. I had 36 hours of traveling ahead of me, but it didn't matter.
All I cared about was to go back to the city I disliked so much at first and then fell in love with. Forever!
Full picture albums: